DARRYL BARKER PRODUCTIONS - dbarkertv.com

Flying Triangle Investigation
UFO CASE REPORT - RECEIVED 8/11/04, POSTED 9/3/04, Correction 3/25/2013
FLORISSANT, MISSOURI - 2:00AM SIGHTING OF JANUARY 5, 2000 UFO REVEALS MOVING ENTITY WITHIN OBJECT

AN INFORMATION TECHNOLOGY PROFESSIONAL FOR A WELL-RESPECTED ST. LOUIS ORGANIZATION WITNESSES A SILENT, LOW FLYING OBJECT OVER HIGHWAY 67 ON JANUARY 5, 2000, AND SEES AN ANIMATED FIGURE MOVE TO THE 'WINDOW' OF UFO.
BY DARRYL BARKER*
This is the first known UFO report to come from the west side of the Mississippi River for the morning of January 5, 2000.
Audio Interview #1: August 13, 2004, Florissant, Missouri UFO Witness - Windows Media Player (Progressive Download)
Note: A second interview with this witness was conducted on September 9, 2004, which revealed additional details of a humanoid figure at window. That interview may be available at a later date.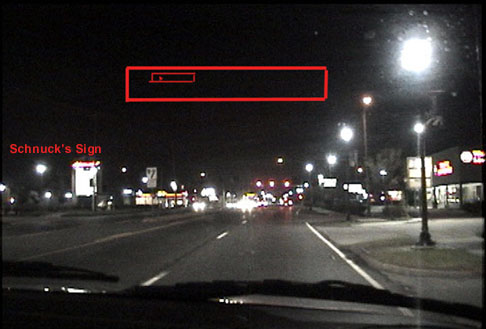 Sighting Location: Witness rendition of unknown craft. Using Photoshop, the witness drew the above representation in red line, superimposed onto reconstruction photo near 8200 block of N. Lindbergh Blvd, southbound in Florissant, Missouri near the Schnuck's Supermarket. Object is reported to have floated across highway near Schnuck's grocery store sign to the left. The smaller rectangle within the large rectangle is the "window" and a childlike, humanoid figure, to scale.

THE FLORISSANT WITNESS REPORTS THAT HE COULD SEE INSIDE THE CRAFT. IT WAS ILLUMINATED WITHIN....AND THAT A CHILDLIKE FIGURE MOVED QUICKLY TO A WINDOW AND APPEARED TO LOOK DOWN
Witness Sketches and Annotations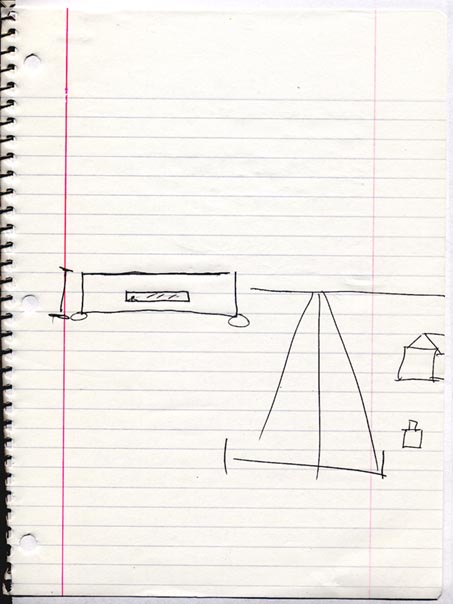 ABOVE: Original witness sketch of object passing over Highway 67 in Florissant, Missouri.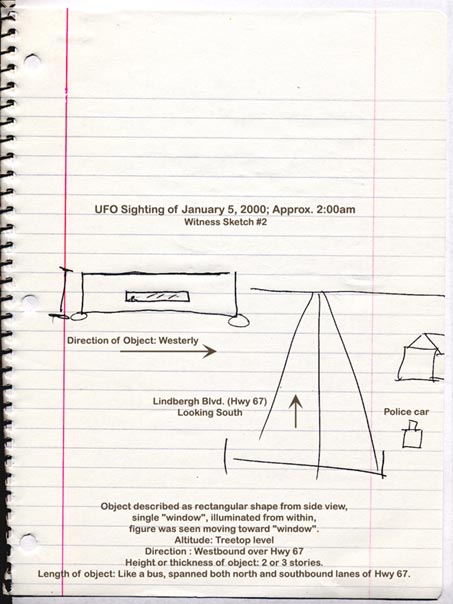 ABOVE: Southbound View ~ Annotated Witness drawing of UFO about to cross Hwy 67 (Lindbergh Blvd.) Posted 9/3/2004, click to enlarge.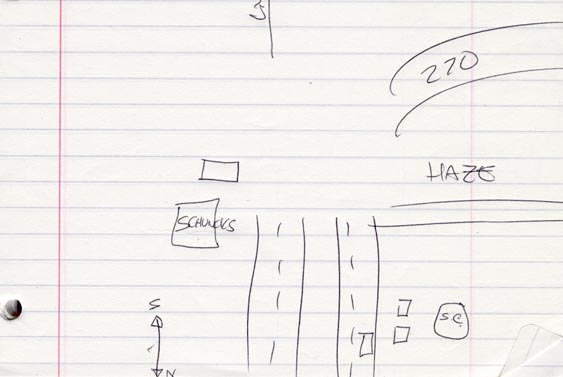 ABOVE: Original witness sketch overlooking Highway 67 (Lindbergh Blvd).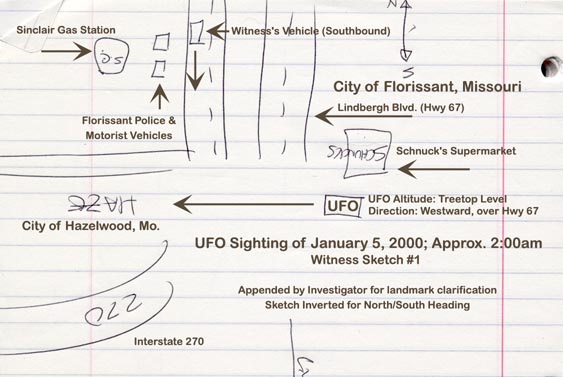 ABOVE: Annotated Witness sketch overlooking Highway 67 as UFO approaches Lindbergh Blvd. Posted 9/3/2004, click to enlarge. (Sketch is inverted for North/South orientation)

WITNESS REPORTS OBJECT AT APPROXIMATELY 200 FEET ALTITUDE OVER POPULATED AREA.....NO SOUND

On Wednesday, August 11, 2004, an e-mail was received from an information technology (computer networking professional) employed by a highly reputable organization in St. Louis, Missouri. The man stated that he observed a low flying rectangle over Lindbergh Blvd, (a major highway) in Florissant, Missouri on the morning of January 5, 2000 at approximately 2:00am. The object was very large, black and made no sound. It moved very slowly as the witness drove toward the object and was visible for approximately 10 seconds. The object cleared the highway, moving westerly, over a residential area. The witness's story, that he sighted the object on January 5, 2000, and then told about it the next day, has been corroborated by two other individuals.

A police officer from the City of Florissant had pulled over a motorist and also witnessed the object, according to this witness. The Florissant Police Department has been contacted, but efforts to ascertain the name of the Florissant police officer who witnessed the object have been unsuccessful. Should the witness who was serving on the Florissant police force on the morning of January 5, 2000 decide to file his report and corroborate this sighting, and/or should the motorist who was cited by the police officer wish to contact us, please send us an e-mail. We will verify employment with the City of Florissant, Missouri for the officer and verify the citation for the motorist.

It should be noted that the altitude at which these unknown craft are flying are often at dangerously low levels. Often in the range of 200 to 500 feet above ground, at such reported altitudes, the absence of sound is even further astonishing. The fact that these objects fly so close to the ground over populated areas is a safety concern which should be investigated by the Federal Aviation Administration.

The same old question again arises: Is it Ours or is it Someone Else's? The skeptic can speculate that the flying triangles are covert military aircraft, specially equipped with large displays, perhaps liquid crystal, to lead witnesses to believe they are seeing alien entities moving within an enormous interior. To the contrary, contradicting this effort to debunk the notion of alien intelligence, one only need return to an initial point made by some in regard to the original flying triangle sightings over Illinois of January 5, 2000; that being, how can something the size of a football field move in silence without an audible trace of a propulsion system? The argument of anti-gravity does not solve the propulsion problem. In this report from Florissant, the witness stated that he could see within the ship, and it appeared that the cavity inside the craft was very large, which matches the initial report from Melvern Noll of Highland, Illinois, the first person to report the object in the Illinois sighting sequence. Both men report the object to appear as a "rectangle" as it flew past them, at a low altitude.

Artist Rendering: Side View of Melvern Noll's Highland, Illinois UFO

ARTIST'S RECONSTRUCTION: The aerial object in this video production image is in fact, a triangle, created with 3-D animation software. When viewed from the side, the impression is that of a rectangle, the description given by Melvern Noll of Highland, Illinois, and the Florissant witness. However, the question remains, did Melvern Noll, the Florissant Witness in this report, and now another witness who has reported witnessing a rectangular "Flying House" on Highway 4 at Interstate 64 at approximately 4::15am on January 5, 2000. We MAY BE looking at two separate UFOS: one a rectangle and another a triangle.

If the Florissant witness has accurately reported what he saw on January 5, 2000, then this witness may hold a key to the riddle of the flying triangles. If a humanoid entity was actually inside this object as it passed over Lindbergh Blvd. in Florissant, Missouri, then we are dealing with an advanced aircraft under intelligent control, the likes of which may not be of human origin. Dispelling such a notion is not easily done, when one takes into consideration that reports of similar triangular UFOs have been recorded for decades.

Area Maps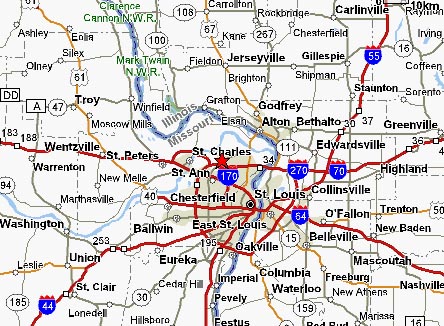 Wide Overview of Sighting Location, 8200 N.. Lindbergh, Florissant, Mo. Red Star marks sighting location.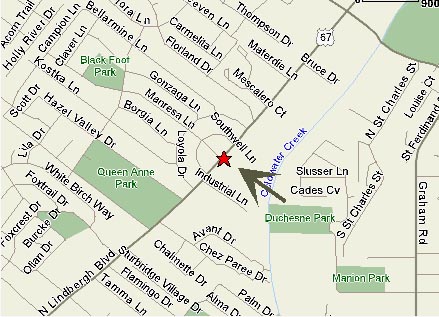 Medium view: Sighting Location.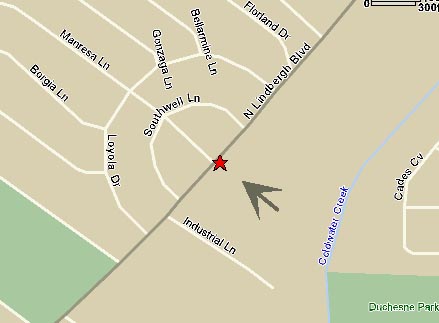 Close View: Sighting Location.
Audio Interview #1: August 13, 2004, Florissant, Missouri UFO Witness - Windows Media Player (Progressive Download)
Note: A second interview with this witness was conducted on September 9, 2004, which revealed additional details of a humanoid figure at window. That interview may be available at a later date.
________________________________________________________________________________
READ MORE ABOUT THE ILLINOIS UFO CASE
SEE VIDEO PREVIEW FROM THE ORIGINAL JANUARY 5, 2000 SIGHTING - Windows Media - DSL & Faster Connections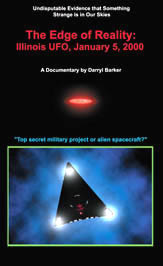 If you need a Player, Download RealPlayer Here
THE DEBATE: ALIEN OR HUMAN TECHNOLOGY?
MEDIA NOTES:
On July 23, 2002, the National Institute for Discovery Science, NIDS, proposed a hypothesis that the UFO seen over Illinois on January 5, 2000, was a U.S. Department of Defense, "Black Program" aircraft. The public must be reminded that although the media may portray NIDS' report as a solution to this case, it is not a solution; it is a hypothesis.

9/4/04 UPDATE: We are pleased to see the latest August, 2004 reassessment of the flying triangle enigma by the people at NIDS at: http://www.nidsci.org/articles/8_25trireport.php NIDS' cumulative mapping of triangle sightings across the United States is cause for some serious concern by the United States government and the U.S. military.
- D. Barker
Home
Triangular UFOs David Marler
HWY4SIGHTING
1/5/2000 CASE ANALYSIS
Mansfield UK 1994 Sighting
SAUNDERS UK 1999 Sighting
BRITISH REPORT
050907 Anomaly
Highland 2006 Sighting
5th OFFICER
Allen Park Sighting
Florissant Sighting
Waterloo Sighting
Canada Sighting
Netherlands
Barton Memorial
TIMMERMAN
CASE UPDATES
Rumsfeld1968
V-22 vs Black Triangles
ABC UFO Report Feb 23,2005
Peter Jennings UFO Report Feb. 22, 2005 Release
Mexican DOD UFO
PBS Letter
Barker Interview
LETTER to MEDIA
Election Fraud
PERSONNEL
REVIEWS/STILLS
Feature Film Production
HELP
LINKS
UFO OVER ILLINOIS
DARRYL BARKER PRODUCTIONS CREDITS
CONTACT US
* Darryl Barker is an independent film and video producer. His documentary program "The Edge of Reality: Illinois UFO, January 5, 2000" investigates, in-depth, the January 5, 2000, sighting of the massive triangular UFO seen over Illinois.
PUBLIC STATEMENT
An unidentified party is sending e-mail with attachments containing a virus to various e-mail accounts and making it appear that the e-mail originated from this website. Be advised that no party at Darryl Barker Productions is sending e-mail with virus-laden attachments.
Copyright 2004-2009 Darryl Barker Productions
St. Louis, MO  63122