DARRYL BARKER PRODUCTIONS - dbarkertv.com

Outside Agency Investigation and Research
UFO CASE REPORT - MARCH 5, 2004
POSTED OCTOBER 24, 2003, Revised 11/1/03
MEXICAN DEPT. OF DEFENSE RELEASES STUNNING UFO CAMERA FOOTAGE

A Mexican Air Force Crew Records Unseen UFOS on Recon Cameras
ALSO COVERED BY OTHER MAINSTREAM SOURCES
Lights in the photo to the left were not visible to the crew of the Mexican Air Force Merlín C26A Bimotor aircraft, the objects were only detected by on-board radar and infrared camera.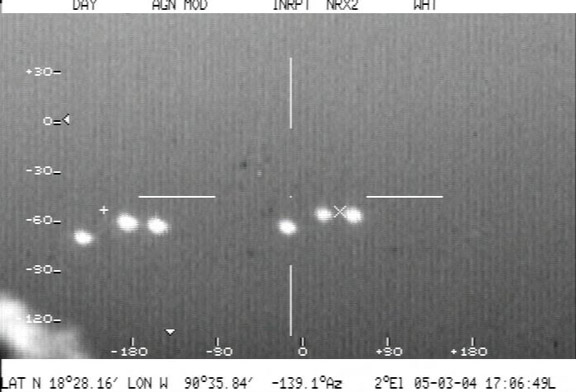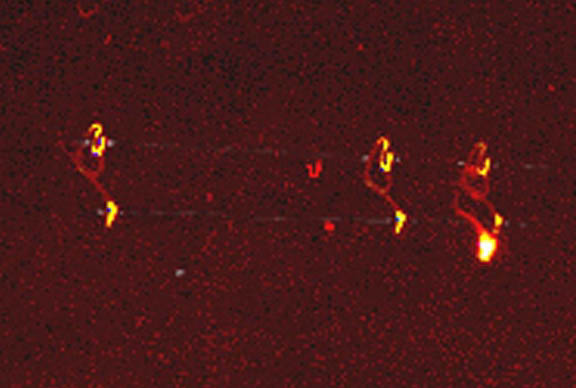 Note the resemblance between the triple light configuration in the Mexican Air Force image to the left and the photo to the right, of the January 5, 2000, Illinois Flying triangle, photographed by Millstadt police officer Craig Stevens. Could the Mexican UFOs be triangles?
Left photo : Infrared Imaging. Mexican Air Force camera frame, Copyright 2004 Jaime Maussan. Right Photo: Polaroid Film. Illinois triangle is public domain, thanks officer Stevens.
________________________________________________________________________________
CLICK HERE TO READ MORE ABOUT THE ILLINOIS UFO CASE
CLICK TO SEE VIDEO PREVIEW FROM THE ORIGINAL JANUARY 5, 2000 SIGHTING - Windows Media - DSL & Faster Connections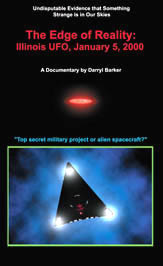 THE DEBATE: ALIEN OR HUMAN TECHNOLOGY?
MEDIA NOTES:
On July 23, 2002, the National Institute for Discovery Science, NIDS, proposed a hypothesis that the UFO seen over Illinois on January 5, 2000, was a U.S. Department of Defense, "Black Program" aircraft. The public must be reminded that although the media may portray NIDS' report as a solution to this case, it is not a solution; it is a hypothesis.

9/4/04 UPDATE: We are pleased to see the latest August, 2004 reassessment of the flying triangle enigma by the people at NIDS at: http://www.nidsci.org/articles/8_25trireport.php NIDS' cumulative mapping of triangle sightings across the United States is cause for some serious concern by the United States government and the U.S. military.

- D. Barker
* Darryl Barker is an independent film and video producer. His documentary program "The Edge of Reality: Illinois UFO, January 5, 2000" investigates, in-depth, the January 5, 2000, sighting of the massive triangular UFO seen over Illinois.
PUBLIC STATEMENT
It seems that an unidentified party is sending e-mail with attachments containing a virus to various e-mail accounts and making it appear that the e-mail originated from this website. Be advised that no party at Darryl Barker Productions is sending e-mail with virus-laden attachments.
Home
Triangular UFOs David Marler
HWY4SIGHTING
1/5/2000 CASE ANALYSIS
Mansfield UK 1994 Sighting
SAUNDERS UK 1999 Sighting
BRITISH REPORT
050907 Anomaly
Highland 2006 Sighting
5th OFFICER
Allen Park Sighting
Florissant Sighting
Waterloo Sighting
Canada Sighting
Netherlands
Barton Memorial
TIMMERMAN
CASE UPDATES
Rumsfeld1968
V-22 vs Black Triangles
ABC UFO Report Feb 23,2005
Peter Jennings UFO Report Feb. 22, 2005 Release
Mexican DOD UFO
PBS Letter
Barker Interview
LETTER to MEDIA
Election Fraud
PERSONNEL
REVIEWS/STILLS
Feature Film Production
HELP
LINKS
UFO OVER ILLINOIS
DARRYL BARKER PRODUCTIONS CREDITS
CONTACT US
Copyright 2001 - 2006 Darryl Barker Productions
St. Louis, MO  63122