DARRYL BARKER PRODUCTIONS - dbarkertv.com

Flying Triangle Investigation

YOU HAVE REACHED THE WEBSITE OF DARRYL BARKER PRODUCTIONS

PRODUCERS OF

"THE EDGE OF REALITY: ILLINOIS UFO, JANUARY 5, 2000"

FIRST VIDEO CREW ON THE SCENE, COVERING THE JANUARY 5, 2000 UFO SIGHTED BY MULTIPLE POLICE OFFICERS AND OTHER WITNESSES

WE DID NOT PRODUCE "UFO OVER ILLINOIS" AIRED BY DISCOVERY CABLE NETWORKS

OUR PROGRAM HAS NOT BEEN AIRED ON NATIONAL AMERICAN TELEVISION
View Trailer of the First Video Interviews of the January 5, 2000 UFO Witnesses

Windows Media - DSL & Faster Connections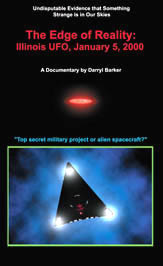 READ MORE ABOUT THE ILLINOIS UFO CASE
THE TRIANGLE UFO DEBATE: ALIEN OR HUMAN TECHNOLOGY?
MEDIA NOTES:
On July 23, 2002, the National Institute for Discovery Science, NIDS, proposed a hypothesis that the UFO seen over Illinois on January 5, 2000, was a U.S. Department of Defense, "Black Program" aircraft. The public must be reminded that although the media may portray NIDS' report as a solution to this case, it is not a solution; it is a hypothesis.

9/4/04 UPDATE: We are pleased to see the latest August, 2004 reassessment of the flying triangle enigma by the people at NIDS at: http://www.nidsci.org/articles/8_25trireport.php NIDS' cumulative mapping of triangle sightings across the United States is cause for some serious concern by the United States government and the U.S. military.
- D. Barker
Home
Triangular UFOs David Marler
HWY4SIGHTING
1/5/2000 CASE ANALYSIS
Mansfield UK 1994 Sighting
SAUNDERS UK 1999 Sighting
BRITISH REPORT
050907 Anomaly
Highland 2006 Sighting
5th OFFICER
Allen Park Sighting
Florissant Sighting
Waterloo Sighting
Canada Sighting
Netherlands
Barton Memorial
TIMMERMAN
CASE UPDATES
Rumsfeld1968
V-22 vs Black Triangles
ABC UFO Report Feb 23,2005
Peter Jennings UFO Report Feb. 22, 2005 Release
Mexican DOD UFO
PBS Letter
Barker Interview
LETTER to MEDIA
Election Fraud
PERSONNEL
REVIEWS/STILLS
Feature Film Production
HELP
LINKS
UFO OVER ILLINOIS
DARRYL BARKER PRODUCTIONS CREDITS
CONTACT US

* Darryl Barker is an independent film and video producer. His documentary program "The Edge of Reality: Illinois UFO, January 5, 2000" investigates, in-depth, the January 5, 2000, sighting of the massive triangular UFO seen over Illinois.
PUBLIC STATEMENT
An unidentified party is sending e-mail with attachments containing a virus to various e-mail accounts and making it appear that the e-mail originated from this website. Be advised that no party at Darryl Barker Productions is sending e-mail with virus-laden attachments.
Copyright 2001-2008 Darryl Barker Productions
St. Louis, MO 63122