DARRYL BARKER PRODUCTIONS - dbarkertv.com

Flying Triangle Investigation

POSTED MAY 17, 2003
FLYING TRIANGLE CASE REPORT - APRIL 24, 2003
DOUBLE-PASS TRIANGLE SIGHTING
A CANADIAN MAN AND WIFE WITNESS ONE, POSSIBLY TWO FLYING TRIANGLES OVER THEIR HOME ON APRIL 24, 2003.

CLICK LINK FOR COMPLETE REALAUDIO FILE OF REPORT TAKEN BY TELEPHONE

The Kitchener Audio Interview is currently Unavailable

Telephone Interview, Canadian UFO Witness

Internet Speeds: 56k & DSL; RealPlayer Required.

If you need a Player, Download RealPlayer Here
BY DARRYL BARKER*
FLYING TRIANGLE(s) MAKE APPEARANCE OVER ONTARIO, CANADA
On Saturday, May 3, 2003, I received a letter from a Canadian man and woman who reported that they had seen an unidentified flying object on April 24, 2003 beginning at 10:05pm, which resembled the flying triangle as reported by the witnesses of the January 5, 2000, Illinois UFO. I will refer to the man as 'Mr. G.', as he and his wife asked to remain anonymous in this report. Mr. G. and his wife reside in Kitchener, Ontario, Canada, a city with a population of roughly 190,000.

On May 5, 2003, I interviewed Mr. G by phone. The witness described what appeared to be a very large airborne, triangular object. The aircraft appeared to be somewhere between 10,000 feet and 15,000 feet altitude and emitted no sound as it flew almost directly over the witness's home in Kitchener. On each corner of the craft were a round 'globe' of light, dull orange to yellow in color and as the craft (or a second similar object) was seen in a second pass over the witness's home, a fourth light was seen on the underside, moving from the rear center to beyond the left rear edge light and then back. The full report, taken by phone, is available in a RealAudio file here: Complete Audio Report .

The witnesses submitted a drawing of the object(s) as sketched over a star chart of the night sky for April 24, 2003, as follows.

From horizon to top of star chart is approximately 90 degrees. UFOs are to scale.

Figure 1. The drawing above submitted by witness shows UFO moving east to west at 10:05pm, and then is seen again at 10:25pm moving southeast to northwest. The 10:05 object was said to have been moving at the speed typical of a falling star (meteor). Ursa Major, or the 'Big Dipper' is seen to the far right, in constellation outline. As altitude is unknown, true size of the objects cannot be determined; however, witness said the object was very large and indicated that is was larger than a Boeing 747 jetliner. Objects are drawn to scale. The investigator did not explain to the witnesses how the charts were oriented, that is, the northern horizon where the 'tractor' icon and the word 'North' is due north; therefore, the heading of the objects in Figure 1. are incorrect. Figure 2. below, shows the objects in a corrected position as modified by the investigator.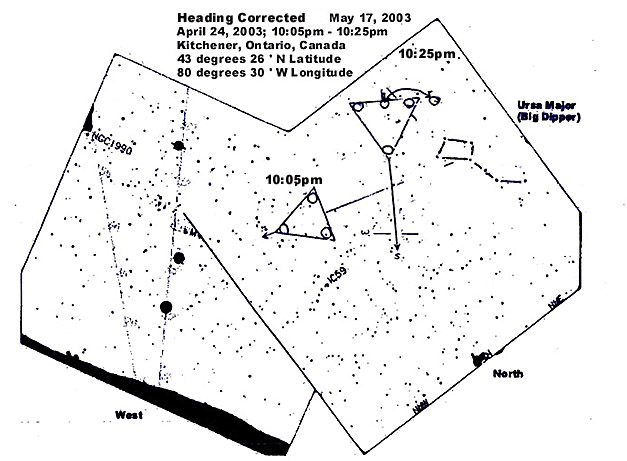 Figure 2. Modified version of witness drawing shows the unknown objects with corrected headings, based on description by the witnesses in a report taken by telephone. The object furthest west was seen at 10:05pm and was seen for approximately 2 to 3 seconds as it traversed a section of the night sky, moving at the speed of a falling star. The object to the right was seen at 10:25pm and moved to the northwest, visible for approximately 5 seconds. The 10:25pm object appeared to be moving slightly slower and at a lower altitude. The object also sported a fourth light, which moved from rear center to beyond the left outside globe of light and then back to the center.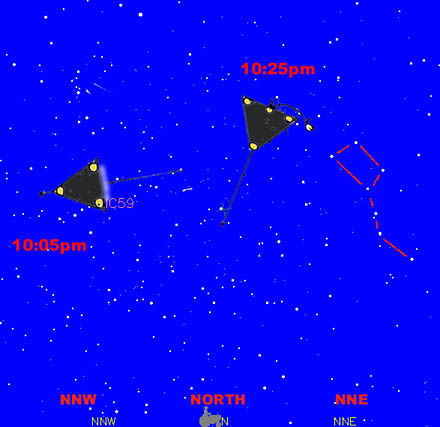 Figure 3. A color rendition of the Kitchener Flying Triangle observation. It is uncertain if the 10:25pm object was the object that passed at 10:05pm and returned, or it was a second object. Ursa Major 'Big Dipper' is highlighted.

I informed Mr. G of the National UFO Reporting Center in Washington State, directed by Peter Davenport and the witness filed a report at the NUFORC website. Mr. G also informed me that he noted upon visiting the NUFORC website, that another witness in Guelph, Ontario, Canada, filed a report of a similar UFO on the same night of April 24. The Guelph sighting preceded the Kitchener sighting at 9:50pm, which could corroborate the Kitchener observation and establish a second point of a proposed flight path.
CLICK HERE TO READ MORE ABOUT THE ILLINOIS UFO CASE
CLICK TO SEE VIDEO PREVIEW FROM THE ORIGINAL JANUARY 5, 2000 SIGHTING - DSL & Faster Connections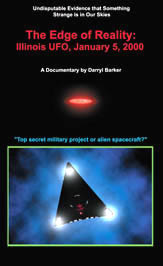 THE DEBATE: ALIEN OR HUMAN TECHNOLOGY?
MEDIA NOTES:
On July 23, 2002, the National Institute for Discovery Science, NIDS, proposed a hypothesis that the UFO seen over Illinois on January 5, 2000, was a U.S. Department of Defense, "Black Program" aircraft. The public must be reminded that although the media may portray NIDS' report as a solution to this case, it is not a solution; it is a hypothesis.

9/4/04 UPDATE: We are pleased to see the latest August, 2004 reassessment of the flying triangle enigma by the people at NIDS at: http://www.nidsci.org/articles/8_25trireport.php NIDS' cumulative mapping of triangle sightings across the United States is cause for some serious concern by the United States government and the U.S. military.

- D. Barker
Home
Triangular UFOs David Marler
HWY4SIGHTING
1/5/2000 CASE ANALYSIS
Mansfield UK 1994 Sighting
SAUNDERS UK 1999 Sighting
BRITISH REPORT
050907 Anomaly
Highland 2006 Sighting
5th OFFICER
Allen Park Sighting
Florissant Sighting
Waterloo Sighting
Canada Sighting
Netherlands
Barton Memorial
TIMMERMAN
CASE UPDATES
Rumsfeld1968
V-22 vs Black Triangles
ABC UFO Report Feb 23,2005
Peter Jennings UFO Report Feb. 22, 2005 Release
Mexican DOD UFO
PBS Letter
Barker Interview
LETTER to MEDIA
Election Fraud
PERSONNEL
REVIEWS/STILLS
Feature Film Production
HELP
LINKS
UFO OVER ILLINOIS
DARRYL BARKER PRODUCTIONS CREDITS
CONTACT US

* Darryl Barker is an independent film and video producer. His documentary program "The Edge of Reality: Illinois UFO, January 5, 2000" investigates, in-depth, the January 5, 2000, sighting of the massive triangular UFO seen over Illinois.
PUBLIC STATEMENT
An unidentified party is sending e-mail with attachments containing a virus to various e-mail accounts and making it appear that the e-mail originated from this website. Be advised that no party at Darryl Barker Productions is sending e-mail with virus-laden attachments.
Copyright 2001 - 2006 Darryl Barker Productions
St. Louis, MO  63122